Dharma Gifts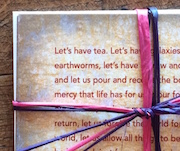 Flashcards for the Radiant World I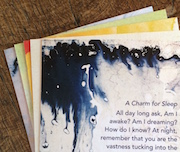 Flashcards for the Radiant World II
Acequias & Gates : Miscellaneous Koans and Writings on Miscellaneous Koans
This book contains two zen koan collections and a collection of essays by Joan Sutherland on keeping company with koans. The first collection in the Gates is the Miscellaneous Koans, part of the formal Pacific Zen School curriculum for koan study. Every koan school has its own unique collection of koans, and this is ours. The second is Awakened Life Koans, compiled by Joan Sutherland. Together they provide a strong grounding in the koan tradition as we've come to understand it. These collections are, vitally, receptacles for koans we're gathering from sources beyond East Asia, and for koans that begin to fill in some pretty important gaps, like the presence of women and the concerns of householders' lives. The gift of reknowned painter Ciel Bergman's images elevates things to another level altogether.
Please purchase
Acequias & Gates
(hardcover and softcover) directly from
Blurb
at the actual cost of printing. Cloud Dragon Dharma Works does not receive any funds from these purchases.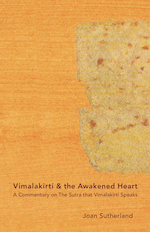 Vimalakirti & the Awakened Heart : A Commentary on The Sutra that Vimalakirti Speaks
A timeless meditation on developing a peaceful and generous heart in a world of sorrows, and on how the awakening of each of us is an inextricable part of the awakening of the world. It's the first volume in a collection called Pilgrim's Bundle, handbooks on traditional philosophy, practices, and poetry in a contemporary voice.
Listen to Joan's talks on
Vimalakirti
as an accompaniment to the book.
Purchase
here
For discounted larger purchases, please contact us at
hello@joansutherlanddharmaworks.org
.