Vimalakirti & the Awakened Heart : A Commentary on The Sutra that Vimalakirti Speaks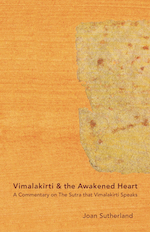 PILGRIM'S BUNDLE ONE (2016)

Two thousand years ago, a Buddhist text calledThe Sutra that Vimalakirti Speaks gave voice to an extraordinary ordinary man who said, "I am sick because the whole world is sick." Now, in a commentary on the sutra called Vimalakirti & the Awakened Heart, Zen koan teacher Joan Sutherland, Roshi writes with lyricism and insight about what those words mean in our own age of profound disturbance and uncertainty. The book is a timeless reminder that if our sorrows are interwoven with the sorrows of the world, so too is our awakening inseparable from the awakening of the world.

This is the first volume in a collection called Pilgrim's Bundle, small handbooks for clouds-and-water wanderers on the Way (whether you ever leave home or not), meant to be tucked into a backpack or under a pillow, used, argued with, scribbled on, and shared.


Vimalakirti speaks to us from within this deepest of all reconciliations, laying out a Way for healing the human heart.
The healing takes place in his ten-by-ten-foot room, which is both the space of awakening already present within each of us,
and the field of awakening we make together. Step right into the dream of awakening, he's saying. Welcome to your own heart. — Introduction
Purchase book