The Open Source
The Open Source
is a network of teachers, communities, and individuals in the western United States engaged in this koan way together. Joan Sutherland was the founding teacher, and the network is led by her dharma heirs.
Teachers & Communities

Sarah Bender, Roshi
is the teacher for
Springs Mountain Sangha
in Colorado Springs, CO. From 2007 to 2013 Sarah served as Cadet Chapel Buddhist Program Leader for the United States Air Force Academy. She is also a learning disability specialist in private practice.

Andrew Palmer, Sensei
leads the Common Way Meditation Community, based in Colorado Springs. He has taught at Springs Mountain Sangha and served as the Buddhist Program Leader for the Cadet Chapel at the Air Force Academy (2013-2020). Andrew's website
Bow and Roar
.

Tenney Nathanson, Sensei
founded
Desert Rain Zen
in Tucson, AZ with Jennifer Sellers in 2008. He has served as Desert Rain Zen's resident teacher since 2012. Tenney teaches in the University of Arizona English Department and helps lead the arts collective POG.

Megan Rundel, Sensei
leads
Crimson Gate Meditation
in Oakland, California. She is also a psychologist, psychoanalyst, and beginning ukulele student.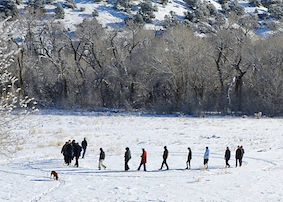 Awakened Life
is the community in Santa Fe, New Mexico where Joan Sutherland taught until her retirement in 2015. It is now a collectively-run community. For more information, fill out the
contact form
.