Search Results
Your search for Awakened Life returned 1 category and 5 links
Acequias & Gates : Miscellaneous Koans and Writings on Miscellaneous Koans
This book contains two zen koan collections and a collection of essays by Joan Sutherland on keeping company with koans. The first collection in the Gates is the Miscellaneous Koans, part of the formal Pacific Zen School curriculum for koan study. Every koan school has its own unique collection of koans, and this is ours. The second is
Awakened
Life
Koans, compiled by Joan Sutherland. Together they provide a strong grounding in the koan tradition as we've come to understand it. These collections are, vitally, receptacles for koans we're gathering from sources beyond East Asia, and for koans that begin to fill in some pretty important gaps, like the presence of women and the concerns of householders' lives. The gift of reknowned painter Ciel Bergman's images elevates things to another level altogether.
Please purchase
Acequias & Gates
(hardcover and softcover) directly from
Blurb
at the actual cost of printing. Cloud Dragon Dharma Works does not receive any funds from these purchases.
by Joan Sutherland
In 2014 we published this groundbreaking book, which made our school's Miscellaneous Koans collection widely available for the first time, and was the first comprehensive introduction to koan study as we understand it. It was also beautiful — made so by the contributions of designer Piper Leigh and artist Ciel Bergman — to reflect the radiance of the koan way and provide a compelling piece of ritual gear.
Gates : Miscellaneous Koans
PDF
Teachings > Dharma Talks > 2011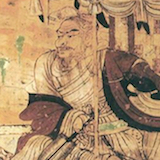 April - July 2011 | Cerro Gordo Temple | Santa Fe, NM
The Sutra that Vimalakirti Spoke is a two-thousand-year-old sacred text that is startlingly strange. Vimalakirti is a bodhisattva lying on his sickbed and isn't the whole point of enlightenment to elevate someone beyond the limitations and sorrows of ordinary
life
? But Vimalakirti doesn't seem to want to be elevated; he says, "I am sick because the whole world is sick." The implications of his explanation, which is also an expression of love and a vow, reverberate throughout the text. In a series of talks given in 2011, we take up this story of a deeply awake householder who explored the very agonies and beauties of human
life
we're still talking about today. This is a somewhat unorthodox vision of the Vimalakirti sutra, focusing on its radical allegiance to
life
and to healing the human heart.
Vimalakirti & The

Awakened

Heart
(2016) is an excellent accompaniment for these recorded talks
(PDF transcriptions not available)
| | | |
| --- | --- | --- |
| Vimalakirti I | | PDF |
| Vimalakirti II | | PDF |
| Vimalakirti III | | PDF |
| Vimalakirti IV | | PDF |
| Vimalakirti V | | PDF |
| Vimalakirti VI | | PDF |
| Vimalakirti IV | | PDF |
| Vimalakirti VIII | | PDF |
| Vimalakirti IX | | PDF |
Teachings > Essays & Interviews > Essays
Originally published in Shambhala Sun
"The image of a human
life
as a small skiff on the wide waters of the world has been around as long as people have had boats, and the thought that
life
is a dream is no news flash, either. But what does it mean that there is something happy, maybe even beautiful or consoling, in thinking so?"